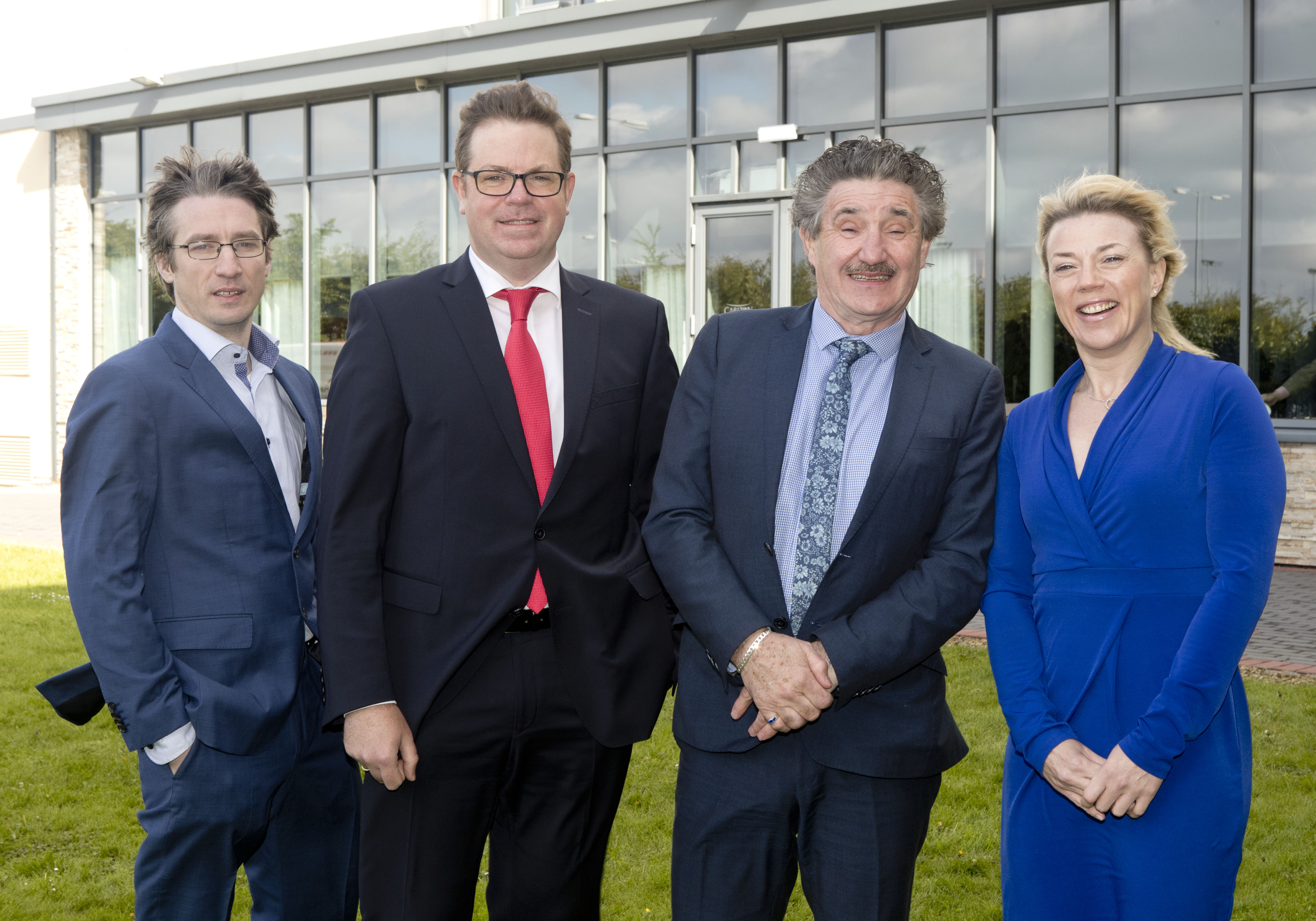 Pictured at the announcement of funding for the MET Gateway Network, L to R: Dr Eugene McCarthy, GMIT MET Technology Gateway, Tomás Thompson, CEO Rockfield Medical, Minister of State for Training and Skills John Halligan, TD, and Dr Lisa Ryan, GMIT MET Academic Director in Medicinal Nutrition.
GMIT MEDICAL & ENGINEERING TECHNOLOGIES GATEWAY TO RECEIVE €1.4M IN NEW ROUND OF GOVERNMENT FUNDING
New 'Irish Food Tech' cluster to be established within the Gateway network
GMIT's Enterprise Ireland Medical and Engineering Technologies (MET) Gateway is to receive €1.4m Government funding over the next five years to provide cutting-edge, industry focused solutions for SMEs and larger organisations across the MedTech, Engineering and Lifesciences sectors.
GMIT's MET Gateway is one of 15 industry-focused Enterprise Ireland Technology Gateways located in 11 Institutes of Technology, comprised of 300 highly skilled and industrially focused researchers, together with specialist equipment and facilities.
The five-year programme represents a €26.75 million investment by the Government of Ireland for the Enterprise Ireland Technology Gateway Network from 2018 to 2022 to deliver technology-based solutions for industry.
Since its formation in 2013, the Technology Gateway Network has completed over 2,750 innovative projects with over 1,250 Irish based companies. Projects range from polymers to pharmaceuticals, photonics to mobile services and mechatronics, right through to biotechnology and industrial design. Typical projects focus on the development of a new product or service or the optimization of a process, across all sectors of the economy and based in every county.
Announcing the funding, the Minister of State for Training and Skills, John Halligan, TD, says: "The Technology Gateway Network programme aims to bring Irish companies together with the researchers in the Institutes of Technology to provide near-to-market innovation and solutions in a range of areas, both regionally and nationally."
"I'm also delighted to announce the establishment of a new food and beverage technology focused cluster within the Gateway Network called Irish Food Tech. As with the other two sectoral clusters in the network, Applied IoT and EMD Ireland, the aim of Irish Food Tech is to optimise the power of the Network and connect industry with researchers in a wide selection of areas that include bioprocessing, food for health, process control and packaging".
Dr Rick Officer, VP of Research and Innovation at GMIT, says: "We have seen unprecedented growth in collaborations between the MedTech sector and GMIT's MET Gateway since its inception. Enterprise Ireland's Technology Gateway funding will ensure MET continues to deliver technology-based solutions for industry at both a regional and national level".
Dr Officer also welcomed the announcement of the new Irish Food Tech cluster: "As a member of the new Irish Food Tech cluster, MET looks forward to expanding our offering in Medicinal Nutrition and strengthening GMITs contribution to Ireland's food sector".
Gearoid Mooney, Manager, Research and Innovation, Enterprise Ireland added: "The Technology Gateway Network offers an open access point for industry providing technology expertise which is industry relevant. Projects range from small starts-up in the regions making use of the Enterprise Ireland's Innovation Voucher Scheme to larger companies using the Innovation Partnership Programme.
"However, the most common mechanism by which companies engage via the Gateways is through projects they pay for completely themselves without leveraging any State funding. This is a testament to both the trust built up between the companies and the Gateways, and the capability of the research community in the Institutes of Technology".
For further information about the MET Gateway in GMIT, please contact Dr Eugene McCarthy, email: Eugene.mccarthy@gmit.ie or visit www.metcentre.ie.
ENDS
Issued by Regina Daly, GMIT Communications Officer
Tel 091 742826/ 087-9618355 (m) email: regina.daly@gmit.ie